The Challenge
Designing for multiple types of users
Truveon's vision included a data collection and processing infrastructure that communicates with other entities to generate greater insight and responsive action. They needed to create a cloud-based digital twin of installed HVAC systems and the home itself as a complex thermal system that interacts with firmware, equipment and sensors installed in the home. This task required not only a high degree of expertise and skill, but an operational understanding of closed loop controls and embedded on-board diagnostic systems.
Continuously operating a variety of sensors inside the home, and interfacing with its digital infrastructure, would facilitate real-time data collection and performance management. In addition, it also created a complex technical architecture. Cloud City's engineers and designers would need to collaborate heavily with Truveon's core leadership to ensure alignment and responsive delivery throughout their partnership.
Cloud City was tasked with designing apps that could be used by different people to engage with the same data. Truveon's product had to engage with multiple types of end users, including service managers who have to juggle multiple household data sets, technicians needing to install entire HVAC systems, and homeowners wanting to check the efficiency of their personal HVAC systems.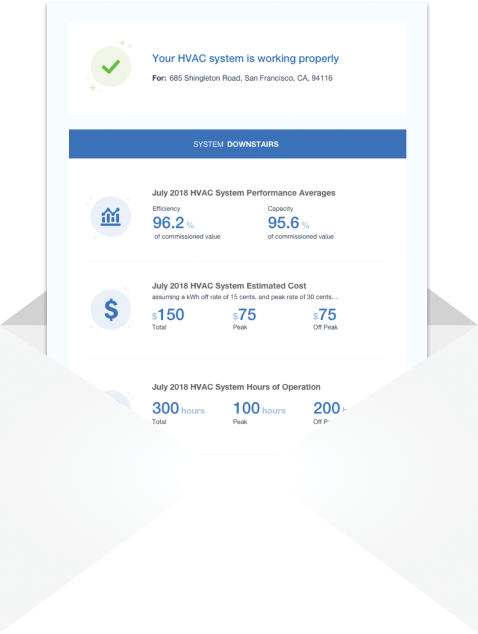 The Solution
Unlocking knowledge
To help design and develop technology for Truveon, Cloud City worked to unlock technician knowledge on HVAC systems. They then systematized that knowledge into an application to help users troubleshoot and resolve problems.
Cloud City thoughtfully designed and executed IoT (Internet of Things) technology for Truveon, called TruEfficiency™. Not only did this include the skilled software development and expertise required for an interactive system with multiple end users, but also the ability to think through and generate thoughtful, effective design.
The end result was a suite of reliable and effective applications designed to collect and track data, safely compare it to the performance of highly efficient homes, incorporate weather data, and give end users the information they need to monitor energy — and troubleshoot and fix problem areas if necessary.