The Challenge
Collecting Data on Tobacco Pricing & Cessation Rates
At this juncture in the fight against tobacco-related lung cancer, data research is often focused on a more holistic look at how tobacco usage impacts, and is impacted by, various lifestyle factors.
It is for this reason that the American Cancer Society co-created Tobacco Atlas with Vital Strategies, a global health organization dedicated to preventing health crises. This free online resource provides both statistical and strategic information to help support the fight against tobacco.
One of the goals of Tobacco Atlas is to collect data surrounding taxes and tobacco, to support the creation of additional legislation that helps to combat smoking. To collect this data, they needed a mobile app that would allow volunteers to track retail pricing data. The app would need to be well designed and highly functional, engaging users and allowing the American Cancer Society to clean the data once it was collected.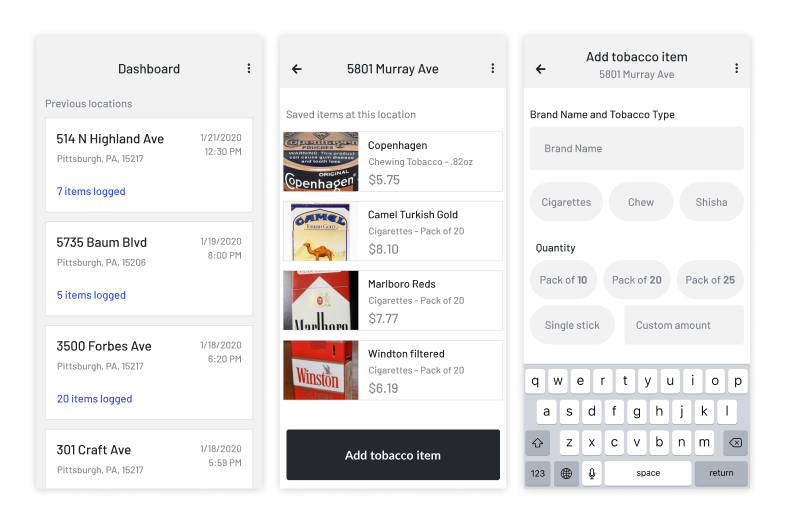 The Solution
Thoughtful, strategic design
In order to create valuable new data sets to support anti-tobacco pricing policies, the American Cancer Society needed to empower volunteers to gauge cost changes in retail locations using a mobile app.
Cloud City provided thoughtful, strategic design on the front end of the project to prevent mistakes further down the line. This involved creating a UI that would allow users to enter data in a variety of scenarios. Their solution was to create a generic form and an option to upload a photo, giving the American Cancer Society the opportunity to clean and normalize the data at a later point.
To launch a mobile app for Tobacco Atlas, the American Cancer Society needed a tool that enabled users of iPhones and Androids. Cloud City wrote the mobile app in React Native — a language that allowed them to build the tool in Javascript Framework so that it could be launched on both iOS and Android.