The Challenge
Engaging and empowering communities
TrashBlitz is a "trash data collection" platform for taking charge of waste in communities by gathering data in new ways to identify problems and drive local solutions. To equip people across the country to participate, 5 Gyres needed to create an application that would allow users to document different types of trash on their mobile phones.
The app would need to be able to handle a high user load and deliver functionality with minimal delays and kinks, with a sleek, user-friendly interface and elegant UX that encourages and enables participants to use the app quickly and easily. The documentation of different types of trash needed to be detailed but simple, resulting in valuable data collection that could be leveraged to push for actionable change.
5 Gyres needed a tool that would allow them to engage and empower communities of users, and push for real, actionable transformation.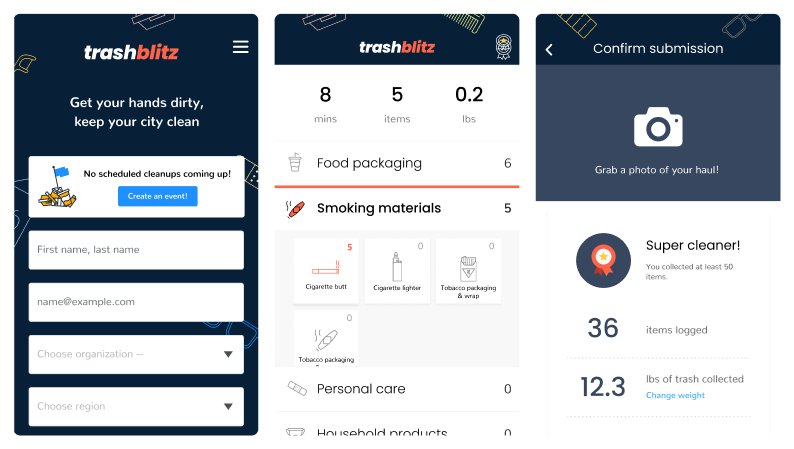 The Solution
Intuitive data collection tools
To help 5 Gyres succeed in their vision of empowering communities to document trash and effect change, Cloud City designed and built a user-friendly application for TrashBlitz that would be used across the nation — including major metropolises like Los Angeles.
The app allows users to easily categorize their findings by trash type (such as cigarette butt, bottle cap, or diaper), and brand (such as Marlboro or Coca Cola). This second category was key, as it allows for data collection that holds specific corporations responsible for their waste management practices.
Users are encouraged to photograph and log their findings, adding an extra layer of accountability to documentation. At the end of their personal "trash blitz," the app would tell users how many pounds of trash they had collected and how long they had been performing the cleanup.
Not only did the app include key features needed to collect and document data, it was also built with the forethought required to deliver quality and functionality.