Many people were introduced to remote work in 2020.
And, let's be real, 2020 was pretty bad.
In addition to figuring out Zoom and finding a spot for our home office, we were also living through the worst global health crisis in generations. At best, we spent 2020 in a perpetual state of fear and anxiety. Those who got sick or lost a loved one had it much worse.
We've seen several conversations in the news and on Twitter rallying against remote or hybrid work arrangements because it "didn't work" in 2020.
But last year was not representative of what remote work actually looks like.
"Last year was not 'working from home.' It was living through a nightmare," said Mercedes Bernard, Cloud City principal engineer. "It's not that teams are not productive remotely. Instead, they're not productive with the stress of questions like: Are my parents healthy? When are we going to get a vaccine?"
Before you throw in the towel on remote or hybrid work, we'd like to suggest a few changes that can make your current arrangement more successful, collaborative and productive.
At Cloud City, we've been fully remote since 2003. Many of our team members have also worked in a remote capacity since the days of HTML5. While we still have a lot to learn and improve upon, we've developed some best practices that work for us — and may work for your team, too.
"Remember that this will be a constant evolution, not something you'll master and be done with," said Kenzi Connor, Cloud City CEO/president.
The case for having a remote or hybrid team
Real talk. Our team can barely name seven people who want to go back to the office full time.
Most of our friends, family and Twitter connections are either happy to stay remote or are hoping their companies adopt a structured hybrid approach (where employees come back to the office on specific days but work from home the rest of the week).
It's not just our bubbles who don't want to go back to the cubes. Consider these headlines:
If you want to attract high-quality candidates, embracing a structured remote or hybrid program will give you a competitive edge in today's job market. Already, companies ranging from Facebook to Ford have announced they will offer remote or hybrid work arrangements — and even flexible schedules — for the foreseeable future.
In addition to the obvious benefits of attracting talented employees from around the country or world, remote work also empowers companies to improve their D&I&B (Diversity and Inclusion and Belonging) initiatives. For example, moving to text-based communication may make it easier for employees who are Deaf or hard of hearing. Here are more ways remote arrangements make working easier for people with disabilities.
Setting your team up for remote success
Remote work is an art. It requires unique skills and tools — and lots of open, explicit communication.
At Cloud City, we like to jump on a one-hour call with each new team member to show them our systems (mostly Slack, Zoom and Jira) and help them get set up properly. Because we tend to attract people who are used to working remotely, most of our new team members don't need a ton of guidance. But sometimes folks come from an environment that uses Google Meet or UberConference. Others may be more familiar with Asana or Trello.
This call is a great opportunity to show new employees and contractors our systems, answer any questions they have, and get to know the person behind the Slack handle.
We also use the time to walk through our list of supply and setup requirements. Everyone must have a decent microphone. And while we encourage our team to always be their true selves, we also ask that they have a client-appropriate Zoom backdrop.
Everything is communicated in advance, so there are no surprises. We also send over a home office allowance so new team members can buy the listed supplies and equipment.
But one idea that we hadn't considered is including discretionary funds so each new team member can personalize their setup to their needs. For example, parents might need a baby gate or noise-canceling headsets. People with back problems may prefer to spend a little more on a height-adjustable desk.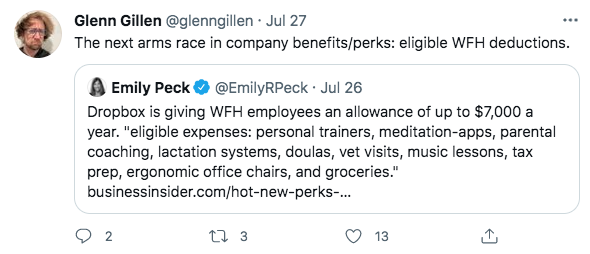 "A successful remote or hybrid work arrangement requires a lot of trust. You have to trust that your team wants to do good work. You have to trust that they know their setup and needs," said Leslie Chicoine, Cloud City director of product. "That's often more trust than employers are used to giving."
Creating a level playing field
For those embracing a hybrid or remote-optional arrangement, it's important to put everyone on the same footing. It's easy to accidentally (or intentionally) privilege those who are working on-site at the expense of remote employees' well-being and productivity.
One of the easiest and simplest ways to level the playing field is to do away with your office's group conference room. From now on, if anyone on the group call is dialing in from their computer, EVERYONE should dial in from their computer.
"It's all too easy for people calling in from the conference room to unintentionally dominate the conversation, while people calling in may not be able to get a word in edgewise," said Kevin Fitzpatrick, Cloud City Software engineering consultant.
Another tip: If people in the office have a productive meeting or brainstorming session, they should type up a brief recap and share it with the rest of the team.
That's something fully co-located teams should do too.
"There are many best practices for remote and hybrid work that could also make life easier for teams sharing an office," said Connor. "You just have to be more explicit about them in a remote setup."
Managing projects & communication
Perhaps the biggest complaint we've heard from employers is the lack of transparency into how remote workers spend their time. For managers new to the setup, there can be a serious lack of trust and constant questioning of the remote teammate's productivity.
"These issues are especially prevalent in workplaces where projects take months and you can't see progress on a daily or weekly basis," said Gregory Tomei, Cloud City senior engineer. "There's a tendency to wonder if work is even getting done. That can create a lot of distrust between colleagues, employees and managers."
Fortunately, this is one of the easiest problems to fix. Here are a few ideas we've either experimented with or have seen implemented at other organizations:
Set core hours. If it makes sense for your team, consider setting core hours when everyone has to be at their desk and available for calls, Slack conversations, etc.
"If you want those core hours to take place in the office, optimize that time for brainstorming and sharing ideas," said Martin Emde, Cloud City senior engineer. "If you want people to collaborate in person, you must be tolerant of less head-down work getting done on those office days."
Embrace standups. Whether it's daily, biweekly or weekly, set a recurring time for everyone to jump on a call to update each other on their progress, ask questions or brainstorm together.
"One of my friends runs a small company. When COVID-19 hit and everyone started working from home, there were some initial issues with trust and transparency," said Brendan Miller, Cloud City staff designer (UI/UX). But once they started doing daily standups, all of those issues just dissolved."
Create opportunities for "water cooler moments." The biggest upside to in-person working arrangements is the collaboration and camaraderie fostered by working in the same space. At Cloud City, we are constantly working to create a sense of community among our team members. Currently, we have several Slack channels where people can share recipes, music recommendations and even practice their Japanese.
But we know there's a lot more we could be doing. We'll tackle this more in a future post.
"The biggest change in switching to home work is that communication needs to become more explicit," André Arko, Cloud City staff developer (manager), wrote in a recent blog post. "Are you explicitly checking in with your team? Are you explicitly supporting them? Are you providing them with a forum to check in with and support each other?"
Tell us what's working for you
Even though we're big fans of remote work, we have to admit that there are some very valid benefits to collaborating in a shared workspace, ranging from increased visibility into projects to the simple pleasure of grabbing lunch with your teammates.
There are also some people who fare better in an office environment.
"Be aware that some of your employees are just naturally going to thrive in a shared workspace," said Fitzpatrick. "I'm one of those people. I suffered during COVID-19. Now, it looks like I'll have the opportunity to work on-site with a new client and I'm really excited."
As always, we'd love to hear your thoughts.
If remote work is working for you, tell us more. What are you doing to foster community and increase transparency among your team?
Or, if you're itching to get back in the office, what concerns do you have about remote or hybrid arrangements? Hit us up on Twitter to chat more.